Empty Bowls 2010!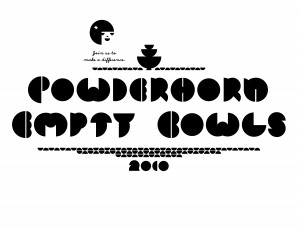 It's that time of year again. Farmers rural and urban have donated veggies. Potters professional and amateur have made pots. People have generously donated their time and chopping skills. Another Empty Bowls * is upon us. It's a national concept that we have put our own South Minneapolis spin on. This year we even have bakers making bread at a new on site earthen oven.
For one day Powderhorn Park becomes the community living room where folks from across the city get together to break bread with one another. Folks attending the event are asked to make a free will donation for a handcrafted bowl and soup meal. Attendees go home with a full belly and a beautiful empty bowl. This bowl serves as a reminder of the need in our community throughout the year.  Powderhorn Empty Bowls gives the money to organizations in South Minneapolis who are helping to feed those in need.  It is a win for everyone involved. As a potter it is a great way for me to give back to my community directly. Over the years we have raised thousands of dollars for local food shelves.
If you're in South Minneapolis on Friday stop by and have a meal. I'll be in the kitchen making soup from scratch all day, pop your head in and say hello. Our event runs from 11 am to 7 pm or until we run out of soup!
* Just an FYI. The Powderhorn Empty Bowls site has been attacked with malware and our original site has been replaced by a muzzleloader fanatic. None of us are that computer savvy, and it went unnoticed for a while. Under normal circumstances I would point you to that website for more info. Instead I have linked to the National Site for more information. We hope to have the Powderhorn Empty Bowls site fixed soon after this year's event. *
---
---