Pugger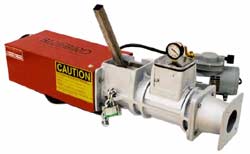 The Workshop Kickstarter has been an overwhelming success. Thanks SO much to each and every person that has donated so far. We met our goal in less than 48 hours and we're still chugging along. The funding period ends on December 1, if you haven't donated yet please consider backing the project.
The increased donations above and beyond our goal gives the Workshop a greater ability to have even more dreams come true. There's a lot that goes into a studio space. Tables, stools, lighting, shelving, storage cubbies, and all the specialized ceramic equipment. The one I'm geeking out on the most is my life long dream to own a pug mill. Think play dough clay factory, but for clay. This large piece of equipment will be the extra dream equipment I'll be able to purchace with the added donations to the kickstarter. With this I'll be able to recycle and reclaim my clay scraps with a powerful tool that will save my hands the energy and effort of clay recycling. Currently I'm wedging my reclaim by hand, a somewhat long and tedious process that exacerbates my hand and arm ailments. Some dream of diamonds, or chocolate, or fancy vacations, this potter dreams of her very own pug mill.
The mug level donation has been the most popular, and the quantity offered sold out quickly. Fear not, I've added a few more in the rewards column of the page.
Together we can make mugs = pugs
---
---