Miss Babs
I've been hard at work filling orders from this year's shows and making a few special pieces for a collaboration with Miss Babs. She asked me to design a Hamsa "ornament" to coincide with a mitten pattern kit she was working on. It was fun researching and designing this talisman. I'm quite pleased with the finished design and really enjoyed the process of this project. The final kits look amazing, and are sure to sell quickly. All the Hamsa ornaments I made and the limited edition mugs are available through Miss Babs shop today at 12 Eastern.
Its been months in the making and today is finally the day the ceramics are available! Here's a few pictures of the progress of this collaboration as I was working on them in the studio. Those of you who follow me on Instagram may have seen some of these pictures. It's hard to be excited about something and unable to share it fully, so I may have been a bit obscure.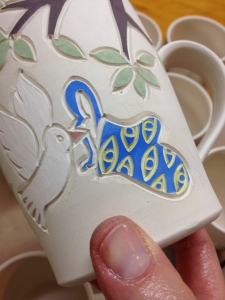 Psst . . . I'll have a bunch of little gift items available in my etsy shop today at 11 Central too.
---
---