Process: carving obsessed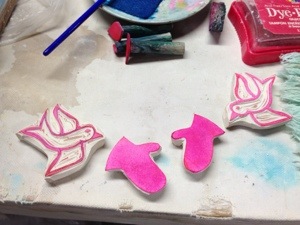 I've been hand carving stamps to speed up my image transfer. It's one more trick up my sleeve. I've always been a big fan of carving, duh look at my pottery, but these stamps are equally addictive to carve. It's like carving into a rubber eraser. The lino cutting tools are slick and make me feel extra crafty. The end result is SO satisfying. I'm rather pleased with how quickly I can get an idea "to print". My work is pretty labor intensive, and I really don't cut corners in many areas of my making. This one I'm sold on. After carving I use a dye based ink to transfer to my leather hard pot. Now it's ready for the three coats of color I apply, then MORE carving! Lord help me if I ever stumble into a woodblock printer…
Bonus? I also have awesome new stamps for paper stuff too!
---
---