Jill Draper and I have crossed paths many times on this wacky fiber journey we're on. Know how sometimes you meet someone and you know you want to invite them to your knitting group? Jill Draper is one of those people for me. Geography has been an issue, she's in New York, so we're having it here in Maryland. She's packed along some goodies. Stop by will ya? We're in the farm and garden building booth #8, same location as previous years.
I tried, in vain, to upload pictures of her beautiful yarns. Please, go look at her photos. They're gorgeous.
Here's a sneak peek of this year's Maryland Sheep and Wool Mug. The crab is back, this time, there are two. Only one ball of yarn though . . . ooooooooooooo.
My studio is in our home, in the basement. We live in a small house and the kids room is directly above my work space, well everything is above my workspace. I'm often working before they wake, stopping work when I hear the pitter patter of Lil's feet, or the E-I-E-I-OOOOOO from Ben as he sings in his crib to wake his sister. As soon as they know I've heard them the gig is up and the pots are covered until I can get to them later in the day. Then I'm Mom and partner doing those things that make a home and a life. This work life teeter totter has its advantages and disadvantages, no doubt. Sometimes while working I forget that these things I make only a few people see as I'm making them. My head is down throwing, painting, carving. Cleaning, glazing and putting on a shelf. Stocking up , filling shelves for the next event. These designs and ideas for my pots that have been tweedling in my head, waking me early and keeping me up late are just mine, until I remember to pick up my head and share them with you. I'm quite smitten with my new work. I hope you are too.
Looks like someone posted a rather nice sweater with some buttons from my recent trip out west. Makes me want to knit up a sweater like that for my little man. I've posted a custom button listing in my etsy shop to make bike button dreams come true. Might be the start of a whole new crop of buttons available for sale online. If you have been to my booth at any of the shows I attend you'll know I make a LOT of buttons in a myriad of shapes colors and sizes. The logistics of putting all the options on line is daunting to say the least. However, this is just the ticket. A single design at a time. Bring on the bikes!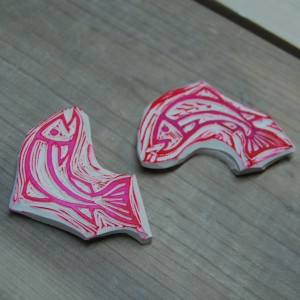 When making my event specific pieces I try and use logical sources of inspiration. Typically I look to the environment, the Madrona Fiber Arts piece is no different. When I, a landlocked Midwesterner, think of the Pacific Northwest I think ocean, roaring rivers, soaring mountain vistas and fresh salmon. Logical jump for the yarn-centric potter? Salmon fishing using a yarn ball lure.
Here's the stamp I carved to speed up the painting process. After doodling my design with a sharpie marker I transfer it to a piece of ez cut linoleum block using pencil. I carve the design away keeping just the lines I need to aid in painting. I stamp the design using a simple stamp pad (it burns away in the first bisque firing). I then have outlines to place my underglazes inside of. This makes the painting go so much faster, and makes the design a bit more uniform. Then comes my favorite part, the carving!
What to do with two revved up kids during the cold wintry afternoons? (-13 F this morning) Pull off all the couch cushions and wrestle, of course. Sometimes we bounce like we're on a trampoline, but mostly we giggle and roll about. It's been a while since I posted, and I know many folks who like to see what the kids are up to, so a pottery free post today while I get back into the swing of posting things on the site. What sort of things do you do to fend off the crazies of winter?
Ugh. Here I sit not far from the fairgrounds listening to the pitterpat of rain. Less now than when I woke up a few hours ago, but forecast to get worse later. Tents must go up, tarps too and the bare bones of the booth. The pots will have to stay bundled up in their bins though. I have a real fear of the tents getting blown over by weather, and there would be no relaxing at all today if I put the pots out too. NE weather mapSo, short day today, long day tomorrow as the rest of the set up will happen after this weather system passes. Mother Nature, be a kind mistress today. Go ahead and rain away. Just please, please, no driving winds and lightning. Save that show for another weekend.
Thank-you for the overwhelming response to my special Anniversary Knitty designs! Amazing. I have added another listing to my etsy shop to give everyone who wants one the chance to order one. Please be aware of the timeline when making your purchase. All orders placed are to be made. After I return from my last big fall show the Knitty production will begin. The orders will be filled in the order they were placed and the delivery timeline was noted in the original listing reciept you recieved from etsy. Friday afternoon I added more with a December delivery. This is a realistic delivery timeline. If I am able to ship them earlier, I will. Bear in mind I hand throw, paint and carve each and every pot in my studio. Hand crafted quality takes time, your patience is appreciated. Please contact me if you have any questions or concerns!
I'm adding another show to this already busy fall. Briar Rose is having their first ever Yarn in the Barn event. I'm a huge fan of Chris (the whole family really) and her fiber is fantastic. It gives me a great reason to return to Michigan to sell my work – its been over three years since I have had a show in the mitten state. Anne Hanson aka Knitspot will be teaching classes too! The details can be found over at the Briar Rose site.
I'm up to my eyeballs in production right now, so there will be lots of fresh pots!