I have a conversational style that seems to disappear when I write online, something I'm not terribly fond of. I think the blog format makes me nervous somehow, and I over edit my normally casual tone. The result is me, but it's a tempered, less spunky me. This style gap has made me a less frequent writer. I write before an event, during times I know when folks are going to be directed to my page from a festival or event website. This paints a picture of me that under represents what my life is, as SO much of it happens outside of my show schedule. The shows are the public forum, the life is what happens in and mainly around that. So here goes. I love sharing stories and events with people. I used to love to write. I love to talk. I'm going to try to do a heck of a lot more of that, ok? There's more to this potter than just the pottery.
Underlying all of the writing reluctance there's a core element of who I am. Forged into my being, probably genetically, is a need to please. Maybe it's that fabled Midwestern work ethic thing, maybe it's my Scandinavian genes, maybe it's just dumb luck. I have a hard time doing things that I know may disappoint. In fact, I often, regularly, over extend myself in order to make things happen. Burning the candle at both ends is a phrase I use often, much to my own personal distress. Dovetailing this need to please is a burning desire to be sucessful. Successful as a mother, a partner, a potter, a friend, family member, a teacher and a human being. As the saying goes there are but twenty four hours in the day, and I spend most of my time thinking of ways to be a success at all that I do. I rise early to work before the kids are up, stay up late to work after they're in bed and fill the middle filling of the day with all the life roles I have. I lead a full life, but lately the cup overfloweth.
So, here it is my white flag of surrender. I'm waving it feebly from my bunker. I need a break. Some breathing time to regroup and breathe. Some time to focus on my family. As a self employed potter I never took a maternity break with either of my two deliveries. My kids were both born during "Rhinebeck season" the busiest part of my work life, and people want pots. So the kids both spent a large part of their infancy in the studio. My family often gets the short end of my attention when I'm working to prepare for a show. I love them too much to let this crazy train of overwork continue. I'm cashing in on my maternity break, my sabbatical, or a holiday break. Call it what you like, but I'm going to take a month or so to regroup.
I will be posting a few items in my etsy shop in the next week. You'll see awesome new ornaments, earrings, buttons and stitchmarkers. As much as I know this is disappointing news to people, and it saddens me to let folks down, there will be no pottery posted in the shop this holiday season. That means no mugs, yarn bowls, or special orders. Please be respectful of this posting. I will let you know, I promise, when I plan to have pottery available outside of my show schedule.
I'm a creative soul, and this creativity needs sometime to breathe. I'm full of ideas and plans for the future. I'd like these ideas to have a chance to bloom. I know myself, and my relationship to clay. So I'll be making as it too is hard wired into me. Instead of making work to cross items off my studio list, or to prepare for a show, I'll be creating for the joy of it. This break will be a fruitful, but a challenging time nonetheless.
I'm hopeful you'll understand, and hope you'll check back here as the season progresses. I'll post more of my other crafty endeavors here, and some other goings on, in an attempt to bring my voice here. Join me, eh?
Here's what I'm doing today in the studio. Having fun carving some sweater ornaments. A variety of colors and yoke designs will be available soon!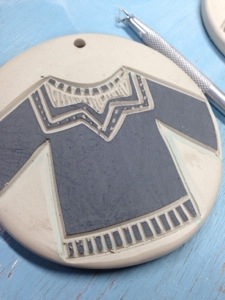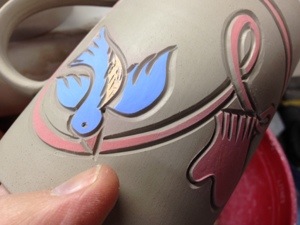 Once again its time for Rhinebeck time. I've been working diligently morning, noon and night preparing for this show. I have lots of pots. LOTS. New designs and old favorites. I packed all the pots into their bins for safe transport before I took a picture of a finished one, dag-nab-it. Here's a picture of one in progress, freshly painted and just carved.
I'll be in the same location as years past, come visit will you?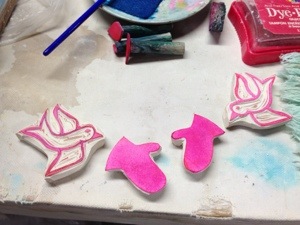 I've been hand carving stamps to speed up my image transfer. It's one more trick up my sleeve. I've always been a big fan of carving, duh look at my pottery, but these stamps are equally addictive to carve. It's like carving into a rubber eraser. The lino cutting tools are slick and make me feel extra crafty. The end result is SO satisfying. I'm rather pleased with how quickly I can get an idea "to print". My work is pretty labor intensive, and I really don't cut corners in many areas of my making. This one I'm sold on. After carving I use a dye based ink to transfer to my leather hard pot. Now it's ready for the three coats of color I apply, then MORE carving! Lord help me if I ever stumble into a woodblock printer…
Bonus? I also have awesome new stamps for paper stuff too!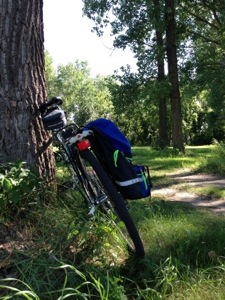 Meet my new love. Earlier this summer I got a new ride, my first new bike in almost 20 years. We have been spending a lot of time together. The summer has been filled with all the things a good summer should be, and I've getting there by bike. I've found all sorts of great places around Minneapolis to turn off my brain and just be. The more I work the more I realize the time away is just as important as the time in the studio. Riding has been a lightening rod for inspiration and my brain is full of new ideas. Good thing too, as my fall show season is just around the bend.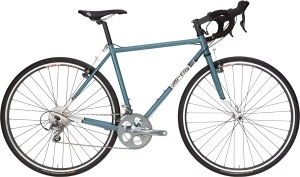 Jill Draper and I have crossed paths many times on this wacky fiber journey we're on. Know how sometimes you meet someone and you know you want to invite them to your knitting group? Jill Draper is one of those people for me. Geography has been an issue, she's in New York, so we're having it here in Maryland. She's packed along some goodies. Stop by will ya? We're in the farm and garden building booth #8, same location as previous years.
I tried, in vain, to upload pictures of her beautiful yarns. Please, go look at her photos. They're gorgeous.
Here's a sneak peek of this year's Maryland Sheep and Wool Mug. The crab is back, this time, there are two. Only one ball of yarn though . . . ooooooooooooo.
My studio is in our home, in the basement. We live in a small house and the kids room is directly above my work space, well everything is above my workspace. I'm often working before they wake, stopping work when I hear the pitter patter of Lil's feet, or the E-I-E-I-OOOOOO from Ben as he sings in his crib to wake his sister. As soon as they know I've heard them the gig is up and the pots are covered until I can get to them later in the day. Then I'm Mom and partner doing those things that make a home and a life. This work life teeter totter has its advantages and disadvantages, no doubt. Sometimes while working I forget that these things I make only a few people see as I'm making them. My head is down throwing, painting, carving. Cleaning, glazing and putting on a shelf. Stocking up , filling shelves for the next event. These designs and ideas for my pots that have been tweedling in my head, waking me early and keeping me up late are just mine, until I remember to pick up my head and share them with you. I'm quite smitten with my new work. I hope you are too.
Looks like someone posted a rather nice sweater with some buttons from my recent trip out west. Makes me want to knit up a sweater like that for my little man. I've posted a custom button listing in my etsy shop to make bike button dreams come true. Might be the start of a whole new crop of buttons available for sale online. If you have been to my booth at any of the shows I attend you'll know I make a LOT of buttons in a myriad of shapes colors and sizes. The logistics of putting all the options on line is daunting to say the least. However, this is just the ticket. A single design at a time. Bring on the bikes!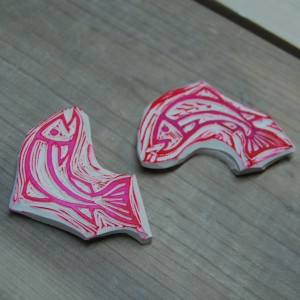 When making my event specific pieces I try and use logical sources of inspiration. Typically I look to the environment, the Madrona Fiber Arts piece is no different. When I, a landlocked Midwesterner, think of the Pacific Northwest I think ocean, roaring rivers, soaring mountain vistas and fresh salmon. Logical jump for the yarn-centric potter? Salmon fishing using a yarn ball lure.
Here's the stamp I carved to speed up the painting process. After doodling my design with a sharpie marker I transfer it to a piece of ez cut linoleum block using pencil. I carve the design away keeping just the lines I need to aid in painting. I stamp the design using a simple stamp pad (it burns away in the first bisque firing). I then have outlines to place my underglazes inside of. This makes the painting go so much faster, and makes the design a bit more uniform. Then comes my favorite part, the carving!