There's a time warp that happens after a big show like Rhinebeck. All of your energy has been channeled to getting all the things ready for the show, and all the things ready at the house for you to be gone at the show. The show happens and then bam it is done.
Months of prep and it's over. A blur of places, people and things, and all the hard work come to fruition. After the long drive, the exhaustion sets in and there is the homecoming re-entry, no small task with little people. Even though it's been a week total from leaving to returning it feels like an age has passed. Life is all discombobulated and it takes a bit of effort to put things right again.
All the long nights and early mornings are replaced with a little well earned sleeping in and staying up late on other non clay pursuits. Oh yeah, and Halloween. As soon as I return it's costume making time. This year only L requested a special costume. B was happy to borrow a Spidey Suit from a neighbor pal. I love refocusing the energy on my family after a big event. We've been relishing that time.
The studio sits dormant while I'm away, and getting that pump primed and running takes a long time. The mess you left must be cleaned, and things re-set to begin. Clay must be weighed, pots thrown, trimmed and painted. Finally I feel like the studio is back. The pistons are moving again, things are being made and projects are underway. I'm excited to have another project coming your way at the end of the month. I'll leave you with a sneak peek of part of it.
I'm hoping to have a small update before the holidays are upon us. Please sign up for the Update list  so you can be notified of the date and time new work will be online!
(The update list is on the tippy top of the right side of this very blog! )
In my adventures I'm fortunate to meet some wonderful like minded creative souls. Most of us in this industry are largely self directed solo acts in making.  I love the inside head space I fall into while working, sometimes though it can be a wee bit lonely. I use various social media to bounce ideas, voice frustrations and share life with others of the same ilk. I like to think of it as taking a break at the water cooler. These breaks a rewarding and I'm amazed at the friendships I have grown online.  One of my favorite parts of attending these festivals is meeting those folks whose work or wit I have admired online.
Last year I was able to attend a retreat where I was able to do so, but without the stress and chaos that accompanies a fiber festival. Spending a few days with Kim (Indigo Dragonfly)  and Bristol (Bristol Ivy Designs) we decided to collaborate on a project. Over the last year we have exchanged ideas, emails and samples and we're quite pleased with the finished result! Troika will be available in kits in each of the two color ways in my booth at Rhinebeck. The kit will include enough of Kim's yarn to make the cowl, Bristol's design, and four buttons in either porcelain or copper as desired.
Here's my contribution. I can't wait to knit one myself!
Once again I'm lucky to share my space with Jill Draper. We met a few years ago at Sock Summit and I just knew she was great. Over the years that has been consistently reinforced. I could gush, but I'd rather have you drool a bit. She's kindly provided me with some great photos of her offerings this year.
A new kit for this adorable hat, pattern by Kate Atherley.
This year's Rockwell naturals. I love the dark brown. (I'm expecting a scrum over it)
Here's one of my favorites. A sweater both Jill (in red) and her mom (in blue) knit with her yarn. The pattern is Jenny at the Fair by Mary Jane Mucklestone from the Rhinebeck Sweater Book.  Looks mighty familiar. Just have the button band to go on mine . . .
After yesterday's post where I answered the questions I have been asked via email or social media I was quickly chided for my hurried post. My dear friend suggested I go back to the beginning and answer questions that first time visitors and Rhinebeck newbies might have. Juggling the last minute show prep and family life I nicely jested she write the post. Well, she did! What follows are helpful hints and tips from a (semi) retired booth babe, an amaze ball knitter and one of my all time favorite people. 
Oh, Jennie Jennie Jennie.
Those are only the "essentials" of how to navigate the craziness that is JTP Booth at Rhinebeck.
Here's a true "insider helpful hints guide" from Not the Potter, for people who come clamoring for your ware, especially at Rhinebeck.
If you REALLY REALLY want a show mug, come early Saturday morning. Jennie has historically NOT held back inventory of show mugs for the second day so whatever there is, it is sold first come first served. These are limited edition, so unless you nab them at the festival, you can't have one…
THAT BEING SAID,
Special orders are available (in limited quantity) at all festivals Jennie goes to, and you can order a 2014 Rhinebeck mug/yarn bowl/tumber at them. SOMETIMES there is even special orders available on Etsy (hint hint: Holiday time, stay tuned to this blog). Or…did Jennie tell anyone she will be at Stitches West in Feb 2015? Just saying.
There are usually a couple of specials on Sunday. These are very limited, usually, but Jennie does sell some seconds if she has them (and I bet she has some given how many mugs she threw for Rhinebeck) for a bit of a discount. Usually a Sunday special. No promises, I'm just guessing. (But if there weren't any of these, Jennie would have deleted this bullet point since this IS her blog.)
I know the focus is one the show mug, but she always has several of her Classic Sheepie mugs/vases/yarn bowls. So….if you have your heart set on one of those, they will likely be there and if you wanted a particular yarn color or sheep color, and it's not in the middle of the crush for the show mug, ask! There may be inventory that's not out on the shelves yet and sometimes, though the booth babes are efficient and hard working, not all the inventory gets out there.
Hint: From what I saw (and just photos, mind you, I live in NYC), it looks like there are a few pieces from "the archives" making the trek to Rhinebeck this year. No, not antiques from Jennie's attic, but she's bringing back some classics.
If you want to chat up the Potter, there are several strategies. She's quite friendly, actually, but what I've noticed in my time with Jennie…

Wear a killer knit. I've never NOT heard her comment on a beautiful piece of knitting that someone is wearing. Jennie is a knitter (and a good one at that), and I've noticed that she will always have something to say about a killer knit. In fact, I've seen her chase down someone wearing a great shawl across the show floor.
Come to the booth in the afternoon when the booth is not so crazy.
And at this point, may I highlight 3 items that I always seem to buy (and not be able to keep because they make good gifts):

Buttons!!!!! Buttons are organized (USUALLY) by how many buttons are on a card. It's also worthwhile asking one of the booth babes if you've got some button that you've seen before or a swatch…they've seen the inventory. In fact, I'll probably be there Saturday afternoon looking for buttons.
Little "saucy bowls". Great gift for tea drinkers to put their used tea bags or strainers in. Or knitters for notions. I don't know how many of these I've bought so far, and I have managed to keep only one. If you see one with a border collie on the inside, THAT'S MINE. (Just kidding, it really is worth looking at what may be peeking up at you from the bottom of the bowl. I am personally hoping there's a version that features this year's show design….because….YOU'LL SEE.)
Stitch markers! They're nice and light (in weight), and who can't use more stitch markers? (These also make a showing in her Etsy shop now and again so I would check to see if she lists some after Rhinebeck).
Well, I hope that helps. I hope you come by Jennie's booth. I'll be the one hogging the button boxes.

(Kei is a retired but sometimes resurrected booth babe in the JTP Booth.) Her antics, and pups, can be followed on her blog twisted and purled (nyc)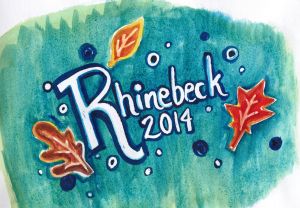 I thought I would take a break from the studio to reply to a few questions I've had regarding sales at Rhinebeck.
The event is Saturday October 18 9am – 5pm and Sunday October 19 10am to 5pm.
My booth is located outside near the 4H gate. The area is 27-A , my booth is number 9. I'm hosting the fabulous Jill Draper again this year.
I do NOT presell my work. It's a bear to prepare for the show, pre-selling and reserving pottery for people seems unfair and frankly makes my brain hurt just thinking of it.
I will have a handful of special orders available for people to place at the show. These will NOT be available before noon on Saturday. I am unable to take any email or online orders at this time. (I'll be sure to let you know if and when that changes)
It's the last push to Rhinebeck. The kilns are chugging away and I have loads of extra help in the studio trying to squeeze every last pot out before its too late. I think we're going to have more pots than ever before for this show. (Yippeeee!!) The potter mobile leaves on Tuesday morning to make the 2 day pilgrimage to the lovely Hudson Valley! I'm excited to see all of you.
Did you know I make each and every piece of pottery I sell? ( If you didn't you should!) While I do have some of the greatest studio assistants ever, I have not ever had anyone else make the pots I paint and carve my designs on. Somehow it just isn't right for my process in clay. I have to throw the clay and make each and every piece. Some days it's exhausting, but mostly it's awesome. Throwing is THE thing that excited me most about ceramics as a young kid, and it's still the place I love to be. Sitting at my wheel, making pots, wearing my fancy clothes. ( Ha!) Mostly I resemble a hobo, and often don't bother laundering my throwing clothes until they're really really dirty. Why waste the water, if they're just going to get all mucked up again tomorrow?
By far and away the most popular shape is my mugs. It's the form I'm most often making in the studio. I start with between 1 -1 & 1/4 pounds of clay. After throwing I place them on a board. I call this a rack. Each fits ~16 cups. ( I call anything with a handle a mug, and without a handle a cup)   I think of each rack like a dye lot. Its a small group, all born at the same time. Sometimes they're almost identical, sometimes more like second cousins. See?
After the cups set up, and become what we call leather hard, I clean up the bottoms of them. Leather hard is the stage at which the pots have lost some of the moisture added in the throwing process and are hard enough to retain their shape. The pots are still wet enough to add another piece of clay to.
All of my handles start with "carrots". I take a larger chunk of clay and break off smaller pieces, roll them on my plaster table into little carrots. One side is tapered and the other stubby. I stack a bunch of them in formation, enough for a rack or two of cups.
I hold the stubby end in my left hand and pull the clay with my wet right hand. The result is a larger version of the handle that ends up on the mug.
These set up for a few hours and then I marry the handle and the cup and behold, a mug is born! Pretty Cool.
Well, here we are its fall already. HOW did that happen? The summer flew by, as it seems to do. Here I am now facing the calendar, with the largest show of the year just a few short weeks away. Once again, I'll be making a special design for the show, but I'm also making a bunch of other great designs too. Here's a few pictures of the antics in the studio. I'm going to showcase a few things in the lead up to Rhinebeck.
I'm burning the candle at all ends. in addition to my "normal" studio hours I'm often working late into the night after the kiddos are in bed and waking before they're up to get a few things started before I have to transition to mom. My studio is underneath the kid's room and I'm getting quite used to the pitter of feet running to the top of the stairs to whisper, "Mamma? It morning? You still working?"
Yes kids, I sure am.
We took a wee camping trip. The kids both had their first canoe adventure. Worried they would tip the canoe, we were pleased the appropriate canoe fear kicked in. So much so, we are hoping for a longer trip later this summer.  The Boundary Waters is such a magical place. Even if you go during black fly season. I'm pretty sure I still have bug bites, and we've been home for a few weeks now.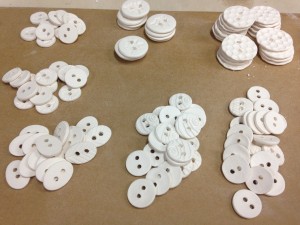 Since we returned I have been working on new projects and preparing for a few new things to come. (stay tuned)The studio has been in high button production and I think we have around 500 waiting to be glazed. Really. They're so innocent and small, yet take so much time when amassed like this.
We stumbled across this crazy old foam stamp, and it's our current favorite. Crazy little kitty. I just couldn't help glazing them all a different color. Pretty sure I'll have to make a sweater for a certain little lady in the house with kitty buttons. Meow.
*Can you Canoe? is an album from one of our favorite bands here, The Okee Dokee Brothers. It's pretty much in constant rotation here. If you are looking for great family friendly music check them out!
Today I head to the festival to set up for The Maryland Sheep and Wool Festival!! I left Minnesota on Wednesday morning and have been driving for the last two days. The day before the festival is one of my favorites. The place is a flurry of activity. Shepherds are caring for their animals, giving last minute haircuts and shaves. Vendors are hauling their wares and setting out the treasure they have been working on for the last few months. I get to say hello, hug my "co-workers" and catch up on the last few months since we' be been at show. It's the relative calm before the storm. I love it.
This year the festival moved our little barn to the back of the main exhibition hall. The giant barn of fibery goodness at the bottom of the hill. I'm all the way at the back, next to the end by the large outside door. Please come and visit! Officially it's C-34 in the main exhibition hall. Check out the map here.
The fleece show now has it's own building so it can stretch out and show off all the beautiful wool that's been brought to the festival from shepherds near and far.
So, I'm off. Prepping for a show is always stressful, and Friday before the show is when I get to see all the hard work and hours in the studio all together in one place. See you soon!
Just a few weeks and I'm headed into spring for the Maryland Sheep and Wool Festival.  I've been making lots of new pots. I often take pictures of my process and share them with my instagram and twitter followers.  I should share them here too!